Our research and development
We discover, develop and commercialize innovative medicines in the therapeutic areas of oncology and anti-infectives
We have a proven track record of bringing drugs from research through clinical development all the way to the market.
Our portfolio
Disease areas
Invasive fungal infections
Invasive fungal diseases are an increasing global health issue due to the growing number of immunosuppressed patients who are at a higher risk of these infections. Isavuconazole was developed in response to this urgent medical need. Worldwide, more than 1.5 million deaths each year are attributed to invasive fungal infections.
Invasive aspergillosis and mucormycosis
Invasive mold infections are mainly caused by airborne Aspergillus species, however, Mucormycetes, found for example in soil or rotting wood, have emerged as the second most frequent group of molds causing invasive infections. Over 50% of patients with mucormycosis die from this infection, so its mortality rate is particularly high. Today there are only limited available treatment options for invasive mold infections.
Bacterial infections
Due to the high morbidity and mortality associated with infections caused by multidrug-resistant bacteria, the discovery of innovative agents with potent activity against these pathogens is top priority of our anti-infectives research team. Our quest is to find therapies with new mechanisms of action, and we will only pursue truly innovative projects that have the potential to make a difference to patients' lives.
According to recent estimates, there are more than 2.5 million healthcare-associated infections each year leading to more than 91,000 deaths in the European Union alone. More than half of these deaths have been attributed to hospital-acquired bacterial pneumonia and to hospital-acquired bloodstream infections (bacteremia).
One important bacterial pathogen is methicillin-resistant Staphylococcus aureus (MRSA). Patients with MRSA infections are more than twice as likely to die from this infection as patients with the methicillin-susceptible form of the infection, MSSA. MRSA rates in the U.S. have been reported in the range of 50%. In comparison, a median MRSA rate of 17% has been reported for Europe (EU/EEA) in 2017, with significantly higher MRSA rates of up to about 45% in Southern European countries.
Hospital-acquired pneumonia
Hospital-acquired pneumonia (HAP) is one of the most common hospital-acquired infections and has been shown to have among the highest mortality rates of all hospital-acquired infections. Methicillin-resistant Staphylococcus aureus (MRSA) is one of the most frequent causes of hospital-acquired pneumonia. Community-acquired pneumonia (CAP) is a common condition with up to 60% of the patients requiring hospital admission and intravenous antibiotics. Prompt empiric intervention with an appropriate broad-spectrum antibiotic treatment is considered a best medical practice. The increasing incidence of bacteria resistant to many established antibiotics is a major concern.
Acute bacterial skin and skin structure infections
Acute bacterial skin and skin structure infections (ABSSSI) are among the most common bacterial infections encountered in both community and hospital settings. Skin infections caused by resistant bacteria such as MRSA have become a challenging medical problem associated with extended hospitalization, high costs and increased mortality.
Staphylococcus aureus bacteremia
Staphylococcus aureus bacteremia (SAB) is associated with significant morbidity and reported mortality rates of about 20%. It can result in infective endocarditis, an inflammation of the heart, which is associated with poor patient outcomes. Only few antibiotics that cover both MSSA and MRSA are approved for the treatment of SAB. Hence, there is an urgent need for new effective antibiotics in this indication.

Oncology
We have strong in-house competencies and excellent researchers in the field of cancer biology, oncology research and development and in medicinal chemistry. We are taking a targeted approach to oncology, focusing on establishing biomarkers very early on in development, which are used to elucidate the mode of action of a drug, to optimize clinical dosing strategies and to identify patients most likely to respond to treatment.
Intrahepatic cholangiocarcinoma
Intrahepatic cholangiocarcinoma (iCCA) is a cancer originating from the biliary system. The age-adjusted incidence rate of iCCA in the United States has been increasing over the past decade and is currently estimated to be approximately 1.2 per 100,000. Patients are often diagnosed with advanced or metastatic disease that cannot be surgically removed. Current first-line standard of care is the chemotherapy combination of gemcitabine and platinum-derived agents. The prognosis for patients with advanced disease is poor, with a median survival of less than one year. There is no proven effective treatment for patients who progress on first-line chemotherapy, thus there is a high unmet medical need.
Urothelial cancer
Urothelial cancer is the sixth most common cancer in the U.S. These cancers start in the urothelial cells that line the inside of the bladder. 80,000 new cases of bladder cancer have been estimated in the U.S. for 2017. Up to 20 percent of patients will have muscle-invasive disease and present with or will later develop metastases. For patients with metastatic disease, outcomes can be poor due to the often rapid progression of the tumor and the lack of efficacious treatments, especially in relapsed or refractory disease.
Glioblastoma
Glioblastoma is the most common and aggressive primary brain tumor and has a high mortality rate. The incidence of glioblastoma is approximately 3 patients per 100,000 in the United States. Treatment of glioblastoma usually includes brain surgery followed by radiotherapy and chemotherapy to slow down the growth of residual tumor after surgery. The best current standard of care treatment extends the overall median survival to only about 15 months from diagnosis with a 5-year survival rate of 5%, underlining the high need to develop new treatments for glioblastoma.
Gastric cancer
Gastric cancer is the fifth most common cancer worldwide and the third most lethal cancer type. Median survival rarely exceeds twelve months and the five-year-survival is less than 10%. It is estimated that there are approximately 190,000 new cases of gastric cancer per year in total across the EU top 5 countries, Japan and the U.S. FGFR genetic aberrations (the target for derazantinib) have been observed in about 10% of gastric cancers.
Our products and pipeline
Anti-infectives, specifically antifungals and antibiotics, form one pillar of Basilea's strategy. We have successfully brought two anti-infective drugs to the market: the antifungal Cresemba (isavuconazole) and the antibiotic Zevtera (ceftobiprole).
Oncology is the second pillar of Basilea's strategy. Over the last decade, Basilea has built an oncology research and development portfolio of novel drug candidates intended to address areas of high unmet medical need.
Cresemba
Isavuconazole, marketed under its trade name Cresemba, is an intravenous and oral antifungal drug for the treatment of the two most frequent invasive mold infections: invasive aspergillosis and mucormycosis.
Basilea has established license and distribution agreements for isavuconazole covering 115 countries. The partners include Astellas Pharma Inc. for the U.S. and Pfizer for most of Europe (excluding the Nordic countries, where Unimedic is our distribution partner), Russia, Turkey, Israel, China and further countries in Asia Pacific. Moreover, we have strong regional partners for Latin America (Grupo Biotoscana), Japan (Asahi Kasei Pharma), the MENA region, i.e. Middle East and North Africa, (Hikma) and Canada (Avir).
After successful completion of a phase 3 study, our partner Asahi Kasei Pharma has filed a New Drug Application (NDA) end-September 2021 for the marketing authorization of isavuconazole in Japan for the treatment of the fungal infections aspergillosis, mucormycosis and cryptococcosis.
Basilea participates in the commercial success of Cresemba sales through royalties, regulatory and sales milestone payments by Basilea's commercialization partners, and by selling Cresemba to the distribution partners at a transfer price.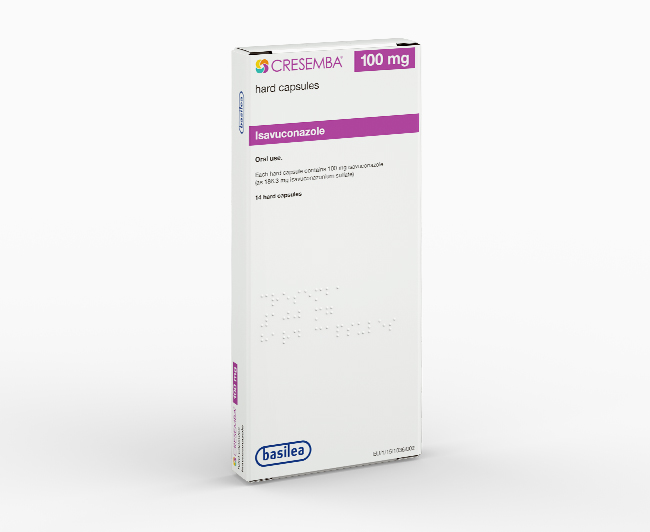 Global partnerships Cresemba
Zevtera
Ceftobiprole, marketed in most countries under the trade name Zevtera, is an intravenous antibiotic currently approved for the treatment of pneumonia, especially the pneumonia acquired in hospitals.
We have established license and distribution agreements for ceftobiprole with several partners covering more than 80 countries. This includes Correvio (formerly named Cardiome) for Europe (excluding the Nordic countries, where Unimedic is our distribution partner), as well as strong regional partners for Latin America (Grupo Biotoscana), the MENA region (Hikma), China (CR Gosun), Canada (Avir) and Eurasian countries (JSC Lancet). Ceftobiprole is not approved in the United States.
As with Cresemba, we participate in the commercialization of Zevtera through royalties, regulatory and sales milestone payments, and by selling the drug to our distributors.
In view of a potential future approval in the U.S., we are currently evaluating ceftobiprole in two clinical phase 3 studies, in bacterial skin infections and in bloodstream infections caused by Staphylococcus aureus bacteria. In August 2019, we reported positive topline results for the skin infection study. The ceftobiprole project is funded in part with federal funds from the U.S. Department of Health and Human Services; Office of the Assistant Secretary for Preparedness and Response; Biomedical Advanced Research and Development Authority (BARDA), under Contract No. HHSO100201600002C. In total, BARDA could provide up to USD ~134 million, which is about 70% of the total expected development cost.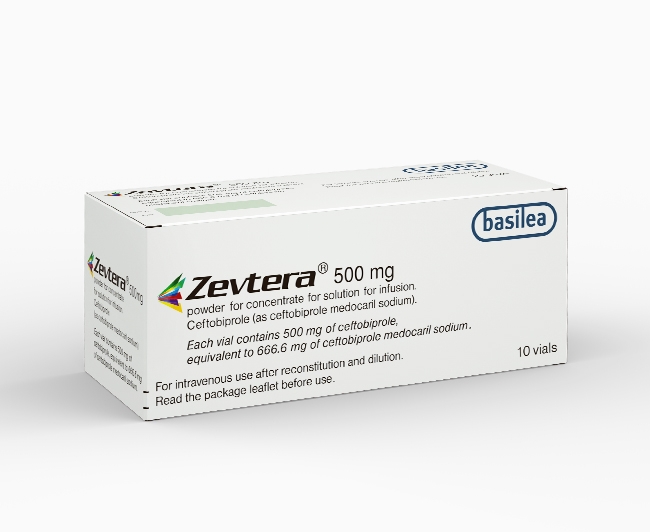 Global partnerships Zevtera
Derazantinib
Derazantinib is an orally administered small molecule inhibitor of the fibroblast growth factor receptor (FGFR) family of kinases.
Derazantinib is currently in a registrational phase 2 study in iCCA (FIDES-01; NCT03230318). In February 2021, Basilea reported topline results for patients with FGFR2 fusion-positive iCCA in cohort 1 of the study. The efficacy results were encouraging and the analysis also confirmed the safety profile and tolerability of derazantinib observed in previous clinical studies. To investigate whether the application of derazantinib can be expanded, we have extended the iCCA study by including an additional cohort of patients with FGFR2 mutations and amplifications.
In order to further broaden the clinical development program, we have started the phase 1/2 study FIDES-02 (NCT04045613) mid-2019 with derazantinib as single drug and in combination with Roche's immune-checkpoint inhibitor atezolizumab in patients with advanced urothelial cancer (bladder cancer). We believe that the combination of inhibiting FGFR while at the same time enhancing the effect of tumor immunotherapy could be a promising new approach in cancer therapy. In addition, we started the phase 1/2 study FIDES-03 (NCT04604132) with derazantinib in advanced gastric cancer expressing FGFR genetic aberrations. In FIDES-03, derazantinib is investigated in combination with atezolizumab, too, as well as with ramucirumab/paclitaxel. Ramucirumab is an anti-angiogenic drug, targeted at the prevention of new blood vessel formation and thus at depriving a growing tumor from oxygen and nutrients.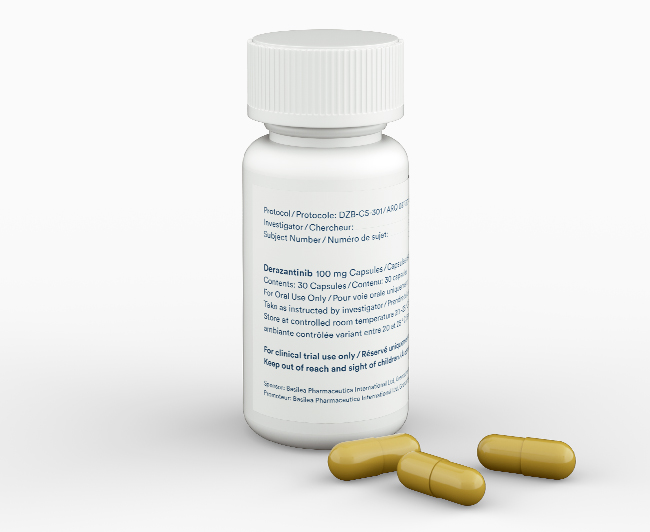 Lisavanbulin (BAL101553)
Lisavanbulin (BAL101553) is a novel drug candidate that is able to cross the blood-brain barrier, which makes it a promising candidate for the treatment of brain cancer. Basilea has identified a potential response-predictive biomarker and will be exploring its clinical utility to support the targeted development of lisavanbulin in specific patient populations.
Basilea has concluded patient enrolment into two early-stage clinical studies with lisavanbulin. The studies explored once-daily oral lisavanbulin in patients with recurrent glioblastoma or high grade glioma (phase 1 study), and weekly 48-hour infusion in patients with recurrent glioblastoma and platinum-resistant ovarian cancer (phase 2a expansion study). Across the two studies, profound objective responses, with more than 80% reduction of the tumor area, were observed in two patients with glioblastoma. Basilea therefore decided to advance the clinical development and is conducting a targeted, biomarker-driven phase 2 study in recurrent glioblastoma. In addition, a phase 1 study is being conducted in the U.S. (in collaboration with the Adult Brain Tumor Consortium) using lisavanbulin in combination with radiotherapy in a specific patient population with newly diagnosed glioblastoma. These are patients who have a reduced sensitivity to chemotherapy with the standard-of-care drug temozolomide.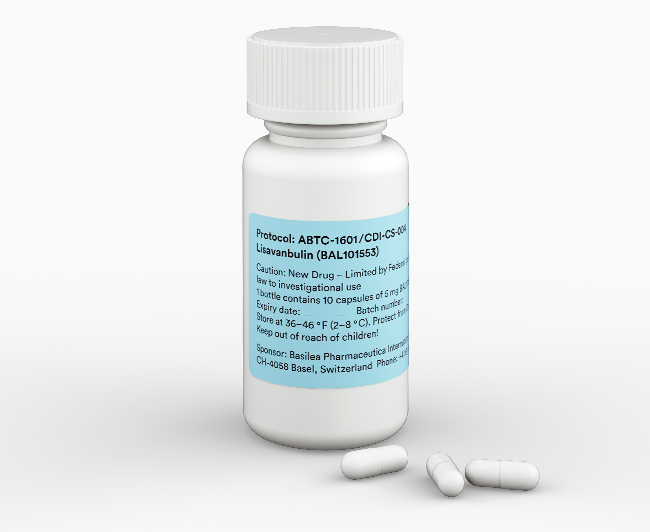 BAL0891
BAL0891 is a first-in-class mitotic checkpoint inhibitor that pushes cells through mitosis without adequate time for correct chromosome segregation. This results in aberrant tumor cell division leading to tumor cell death. The compound is a unique dual inhibitor of threonine tyrosine kinase (TTK) and polo-like kinase 1 (PLK1). Both kinases collaborate in activating the mitotic spindle assembly checkpoint (SAC), a cell division mechanism regulating correct chromosome alignment and segregation. The dual action of BAL0891 leads to a rapid disruption of the SAC driving cells through mitosis before the chromosomes are properly aligned leading to premature cell division and tumor cell death. BAL0891 has shown anti-proliferative activity across diverse tumor cell lines in vitro and single agent efficacy in in-vivo models of solid human cancers. A phase 1 study in patients with advanced solid tumors is planned to start in the first quarter of 2022.