We have a proven track record of bringing drugs from research through clinical development all the way to the market.
Our portfolio
Disease areas
Invasive fungal infections
Invasive fungal diseases are an increasing global health issue due to the growing number of immunosuppressed patients who are at a higher risk of these infections. Isavuconazole was developed in response to this urgent medical need. Worldwide, more than 1.5 million deaths each year are attributed to invasive fungal infections.
Invasive aspergillosis and mucormycosis
Invasive mold infections are mainly caused by airborne Aspergillus species, however, Mucormycetes, found for example in soil or rotting wood, have emerged as the second most frequent group of molds causing invasive infections. Over 50% of patients with mucormycosis die from this infection, so its mortality rate is particularly high. Today there are only limited available treatment options for invasive mold infections.
Invasive candidiasis
Invasive candidiasis, including deep-seated tissue candidiasis and candidemia (bloodstream infections caused by Candida yeasts), is an increasingly important nosocomial infection, especially in patients hospitalized in intensive care units. Candida species are ranked as the fourth main cause of bloodstream infections in hospitals in the US. The prognosis of invasive candidiasis remains difficult, with a reported mortality rate for invasive candidiasis as high as 40%, even when patients receive antifungal therapy.
Bacterial infections
Due to the high morbidity and mortality associated with infections caused by multidrug-resistant bacteria, the discovery of innovative agents with potent activity against these pathogens is top priority of our anti-infectives research team. Our quest is to find therapies with new mechanisms of action, and we will only pursue truly innovative projects that have the potential to make a difference to patients' lives.
According to recent estimates, there are more than 2.5 million healthcare-associated infections each year leading to more than 91,000 deaths in the European Union alone. More than half of these deaths have been attributed to hospital-acquired bacterial pneumonia and to hospital-acquired bloodstream infections (bacteremia).
One important bacterial pathogen is methicillin-resistant Staphylococcus aureus (MRSA). Patients with MRSA infections are more than twice as likely to die from this infection as patients with the methicillin-susceptible form of the infection, MSSA. MRSA rates in the US have been reported in the range of 50%. In comparison, a median MRSA rate of 17% has been reported for Europe (EU/EEA) in 2017, with significantly higher MRSA rates of up to about 45% in Southern European countries.
Pneumonia
Bacterial pneumonia is a common infection and is generally classified according to the location of the patient when the infection is contracted, since this has a major bearing on the likely type of pathogen causing the disease, the treatment, and the patient's prognosis. Frequent types are community-acquired bacterial pneumonia (CAP or CABP) and hospital-acquired bacterial pneumonia (HAP or HABP).
Hospital-acquired bacterial pneumonia is one of the most common hospital-acquired infections and has been shown to have among the highest mortality rates of all hospital-acquired infections. Methicillin-resistant Staphylococcus aureus (MRSA) is one of the most frequent causes of hospital-acquired pneumonia. Community-acquired bacterial pneumonia is a common condition with up to 60% of the patients requiring hospital admission and intravenous antibiotics. Prompt empiric intervention with an appropriate broad-spectrum antibiotic treatment is considered a best medical practice. The increasing incidence of bacteria resistant to many established antibiotics is a major concern.
Acute bacterial skin and skin structure infections
Acute bacterial skin and skin structure infections (ABSSSI) are among the most common bacterial infections encountered in both community and hospital settings. Skin infections caused by resistant bacteria such as MRSA have become a challenging medical problem associated with extended hospitalization, high costs and increased mortality.
Staphylococcus aureus bacteremia
Staphylococcus aureus bacteremia (SAB) is associated with significant morbidity and reported mortality rates of about 20%. It can result in infective endocarditis, an inflammation of the heart, which is associated with poor patient outcomes. Only few antibiotics that cover both MSSA and MRSA are approved for the treatment of SAB. Hence, there is an urgent need for new effective antibiotics in this indication.

Our products and pipeline
Anti-infectives, specifically antifungals and antibiotics, is the key focus of Basilea's strategy. We have successfully brought two anti-infective drugs to the market: the antifungal Cresemba (isavuconazole) and the antibiotic Zevtera (ceftobiprole).
Oncology was the second area of Basilea's research and development activities. In February 2022, Basilea announced to focus on anti-infectives and separate its activities in oncology through transactions with partners specialized in oncology.
Cresemba
Isavuconazole, marketed under its trade name Cresemba, is an intravenous and oral antifungal drug for the treatment of the two most frequent invasive mold infections: invasive aspergillosis and mucormycosis.
Basilea has established several license and distribution agreements for isavuconazole covering well over 100 countries. The partners include Astellas Pharma Inc. for the U.S. and Pfizer for most of Europe (excluding the Nordic countries, where Unimedic is our distribution partner), Russia, Turkey, Israel, China and further countries in Asia Pacific. Moreover, we have strong regional partners for Latin America (Knight), Japan (Asahi Kasei Pharma), the MENA region, i.e. Middle East and North Africa, (Hikma) and Canada (Avir).
In December 2022, our license partner Asaki Kasei Pharma was granted marketing authorization for isavuconazole in Japan for the treatment of adult patients with aspergillosis, mucormycosis and cryptococcosis. Cresemba was launched in Japan in the beginning of 2023.
Basilea participates in the commercial success of Cresemba sales through royalties, regulatory and sales milestone payments by Basilea's commercialization partners, and by selling Cresemba to the distribution partners at a transfer price.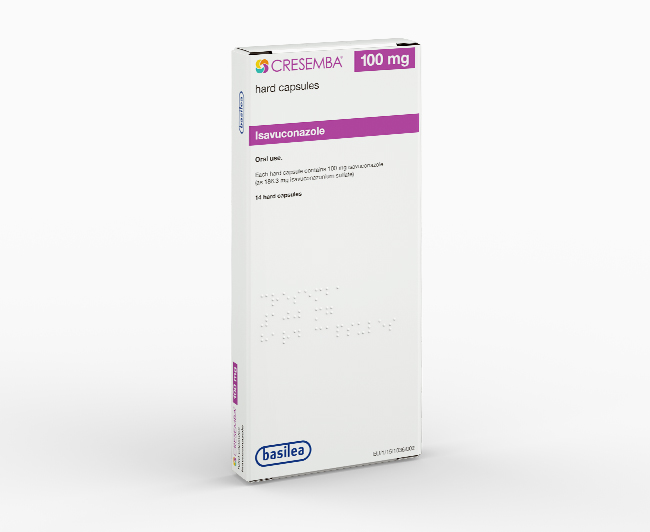 Global partnerships Cresemba
Fosmanogepix
Fosmanogepix is a clinical-stage broad-spectrum antifungal candidate with a novel mechanism of action. Basilea has acquired this first-in-class candidate in November 2023. Fosmanogepix is available in intravenous and oral formulations and has been evaluated for efficacy and safety in clinical phase 2 studies for the treatment of patients with Candidemia, including Candida auris, and invasive mold infections. Basilea plans to initiate phase 3 studies with fosmanogepix in 2024.
BAL2062
BAL2062 (formerly GR-2397) is a clinical-stage antifungal compound with a novel mechanism of action, targeting invasive mold infections. Basilea has acquired this first-in-class antifungal in October 2023. It is derived from a natural product, and has demonstrated fungicidal activity against clinically important molds such as Aspergillus species, including azole-resistant strains. Safety and tolerability have been demonstrated in a previously completed phase 1 study with single and multiple ascending intravenous doses. The drug candidate has Qualified Infectious Disease Product (QIDP), Orphan Drug and Fast Track designation from the US Food & Drug Administration (FDA) for invasive aspergillosis.
Zevtera
Ceftobiprole, marketed in most countries under the trade name Zevtera, is an intravenous antibiotic currently approved for the treatment of pneumonia, especially the pneumonia acquired in hospitals.
We have established license and distribution agreements for ceftobiprole with several partners covering more than 80 countries. This includes Advanz for Europe (excluding the Nordic countries, where Unimedic is our distribution partner), as well as strong regional partners for Latin America (Knight), the MENA region (Hikma), China (CR Gosun), Canada (Avir) and Eurasian countries (JSC Lancet). Ceftobiprole is not approved in the United States.
As with Cresemba, we participate in the commercialization of Zevtera through royalties, regulatory and sales milestone payments, and by selling the drug to our distributors.
In view of a potential future approval in the US, we have conducted two clinical phase 3 studies: one in bacterial skin infections (TARGET study) and the other one in bloodstream infections caused by Staphylococcus aureus bacteria (ERDICATE study). In August 2019, we reported positive topline results for the TARGET study and in June 2022, we also reported positive topline results for ERADICATE.
In August 2023, we submitted a New Drug Application (NDA) for ceftobiprole to the U.S. Food and Drug Administration (FDA), seeking approval for ceftobiprole for the treatment of Staphylococcus aureus bacteremia (SAB), including right-sided infective endocarditis, acute bacterial skin and skin structure infections (ABSSSI) and also for community-acquired bacterial pneumonia (CABP).
The ceftobiprole phase 3 program is funded in part with federal funds from the US Department of Health and Human Services (HHS); Administration for Strategic Preparedness and Response (ASPR); Biomedical Advanced Research and Development Authority (BARDA), under contract number HHSO100201600002C. Basilea has been awarded approximately USD 112 million, or approximately 75 percent of the costs related to the SAB and ABSSSI phase 3 studies, regulatory activities and non-clinical work.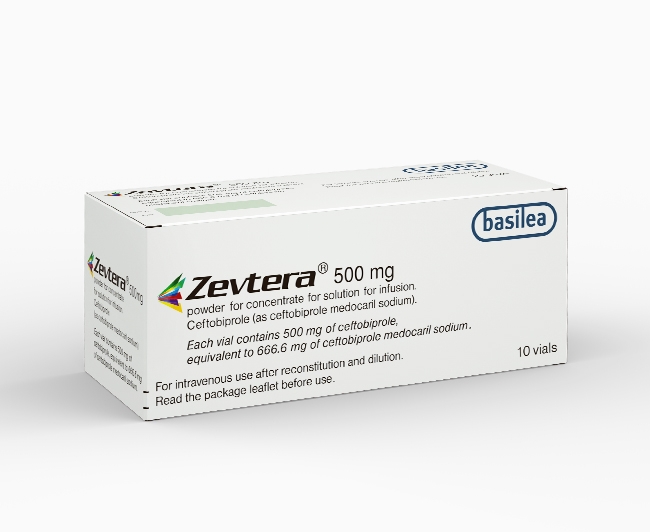 Global partnerships Zevtera
Tonabacase
Tonabacase is a potential first-in-class clinical-stage antibacterial of the endolysin class. Basilea has acquired it in October 2023. Tonabacase has shown activity against staphylococcal bacteria. The use of endolysins represents a novel and innovative approach in the treatment of bacterial infections. Endolysins are recombinant proteins derived from bacteriophages, i.e. viruses that infect bacteria. Over the course of 2024, Basilea will investigate various hypotheses in a number of preclinical studies to determine the optimal future clinical development program for tonabacase. Upon successful completion of the preclinical evaluation phase, Basilea will have the exclusive option to license tonabacase for further clinical development and commercialization.